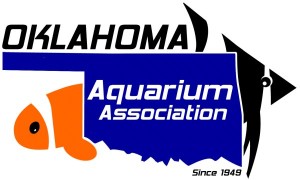 The Oklahoma Aquarium Association (OKAA) is simultaneously the newest and the oldest aquarium association in Oklahoma. The Oklahoma Aquarium Association traces its origins back to the very first aquarium club in Oklahoma started on June 8th 1949 by Mr. Bill Burt. He placed an ad in The Aquarium magazine about forming an Oklahoma City club and found fourteen other "fans" to meet with him on that first night. Mr. Burt was the club's first President and stayed involved with the club until he moved into a part of the city that, at that time, by his own account "killed all his fish." At last report, he still possessed a few guppies in his Nichols Hills home – so perhaps the water there did get better over time.
Another well-known figure of OK aquarium fame, Howard Link, the distinguished owner of OKC's oldest aquarium store; Aquarium Interiors, was also an early member of this first Oklahoma aquarium club. This club was only active for a while, producing a bimonthly newsletter called "Aquarium News." Records indicate that they had a membership upward to 35 people before fading into obscurity.
In the late 1960s, another group of people reformed the club and were successful in their bid to bring the convention of a national aquarium organization to Oklahoma City. They hosted the American Cichlid Associaton's very FIRST National Convention in 1972. Time took its toll on this version of the club as it faded away as well. The original members if this club did go on to form several spins offs but they are gone today as well.
More recently, the Oklahoma City Aquarium Association was formally incorporated in 1999. It grew into a statewide club with chapters in OKC, Tulsa, and Stillwater. Unfortunately, its constitution was too restrictive to deal with a growing and thriving club so, rather than let the club and the hobby be strangled by this document, the officers of the OKCAA formally disbanded it in 2010 and formed a replacement organization instead: The Oklahoma Aquarium Association, otherwise known as the OKAA.
We now enjoy an on-line membership of 600+ at our forum and scores of members attend our special events and our two monthly meetings in Tulsa, and Oklahoma City. The OKAA – better than ever!